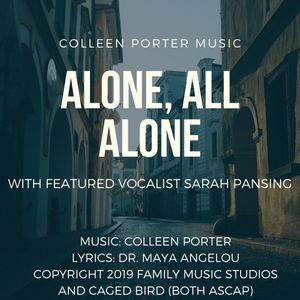 A couple of years ago I read some of Maya Angelou's poems that not only moved me, but I heard the words with unforgettable melodies. I studied more about this amazing unstoppable force... this woman who was an artist and humanitarian, an amazing artist and a woman of color still living in an extremely biased world... yet unafraid to show up and breathe words of kindness, equality, and unity into a resistant world.
I felt so connected to her writing and ideas, especially her authentic bravery.  She is one of my biggest artist / writer idols.  
I knew I had to get her beautiful words out to the world in this music I heard... a way for her words to reach this generation through music and video. I began a project and a plan to release three of these poems into music.  I began song development, but also wanted to reach her Legacy to license her words to my music and release it properly... giving her full credit and earnings for her contribution. It started with a licensed performance of "Alone, All Alone" for my musical "Songs from my Closet" performed by the amazing Sarah Pansing, who has been there since the beginning.
Now, after a two year journey, the first release "Alone, All Alone" is ready for release. And thanks to the hard work and skills of Kate Black films…  there is a beautiful video portraying 2/3 of the song.
The crazy thing is - a year and a half ago I imagined how this video and song would relate so much to today's "social isolation" because of all our gadgets and i-phones etc.  But when all the licensing was paid and the permissions were all in place, we were IN an ACTUAL involuntary Social Isolation (and the licensing went through on Maya's 91st birthday).  I think she planned this all :-).  
Many more songs will be rolling out - I share more stories behind the songs (and more songs) on my Patreon.
 
Also as a support… the EP "New Spring"  contains this song plus a few other originals helps pays back the production and fund her next two poem songs!